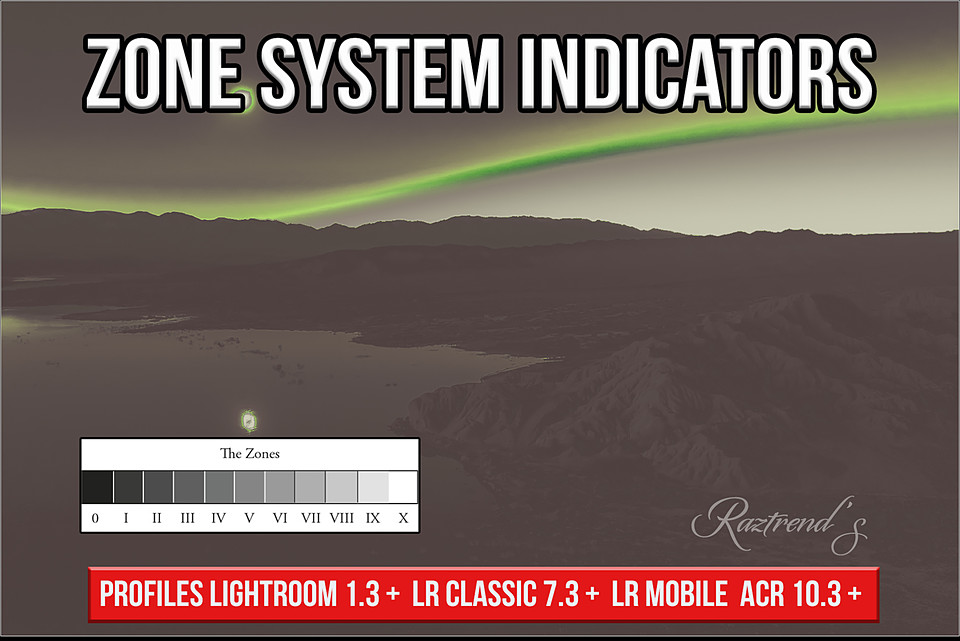 $15.0
Zone System Indicators profiles Ligtroom and ACR
{{ product.data.viewsCountFormatted }}
Meet the brand new tools - Enhanced profiles to use in Adobe Lightrom 1.3/3.0 and later, Adobe Lightroom Classic 7.3/9.0 and later, Adobe Camera RAW...
Expand
Meet the brand new tools - Enhanced profiles to use in Adobe Lightrom 1.3/3.0 and later, Adobe Lightroom Classic 7.3/9.0 and later, Adobe Camera RAW 10.3/12.0 and later, Adobe Photoshop CC 2018 v19.1.3/ 2020 v21.0 and later with Camera RAW plug-in.
!!! Not compatible with the older versions of Lightroom (1-7.2, like CC2015.5 and ACR below 10.3), it's not possible to recreate the profiles as the presets, so please check the version of the software before buying. Again, you need April 2018 release (Lightroom v1.3, Lightroom Classic v7.3, ACR 10.3) or later. Sorry No Refunds.
The Zone System is a photographic technique for determining optimal film exposure and development, formulated by Ansel Adams and Fred Archer.
The Zone System provides photographers with a systematic method of precisely defining the relationship between the way they visualize the photographic subject and the final results. Although it originated with black-and-white sheet film, the Zone System is also applicable to roll film, both black-and-white and color, negative and reversal, and to digital photography.
First time retouchers, educators, and amateurs can use the Zone System inside Adobe Lightroom and ACR.
The Zone System is slightly modified to get the better transitions, the zones are indicated in the Green hues. Analyze, select, create a copy, apply a profile, use it as Reference for the future Local adjustments. Best use for retouching of Landscape, Portrait, Product, Real Estate, Documentary photographs. Also may be used to analyze and retouch the video footages.
Lightroom Mobile users please read:
https://helpx.adobe.com/lightroom-cc/kb/faq-install-presets-profiles.html
The List of Raztrend Zone System Indicators profiles:
Zones 0 - I Pure or near black, with slight tonality but no texture.
Zones I - II Near or textured black. the darkest part of the image in which slight detail is recorded.
Zones II - III Average dark materials and low values showing adequate texture.
Zones III - IV Average dark foliage, dark stone, or landscape shadows.
Zones IV - V Nearly middle gray. clear north sky; dark skin, average weathered wood.
Zones V - VI Average Caucasian skin; light stone; shadows on snow in sunlit landscapes.
Zones VI - VII Very light skin; shadows in snow with acute side lighting.
Zones VII - VIII Lightest tone with texture: textured snow.
Zones VIII - IX Slight tone without texture; glaring snow.
Zones IX - X Near or pure white: light sources and specular reflections.

In the package you will get:
10 Enhanced profiles (.xmp) compatible with Lightoom 1.3+, Lightroom Classic 7.3 + and ACR 10.3 +, Lightroom Mobile,
Zip archive to use in Lightroom 1.4 - 3.0+, Lightroom Classic 7.5 - 9.0+,
Installing and Using Single or Multiple Enhanced profiles in LR and ACR (.pdf).
How to use:
Profiles are non-destructive and can be changed without loss of quality.
Suitable for RAW and Non-RAW (JPEG, TIFF, PNG etc.) images.
Suitable for Color and Monochrome images.
Can be viewed in the Preset Browser.
Use of multiple profiles in your workflow.
Compatible with Mac, and PC.
Easy to install.
Minimize
You will get 1 file
All files previously purchased will always be available for download in your Library